Advanced Merchant Group sponsors 2nd Annual Wiffle Fall Classic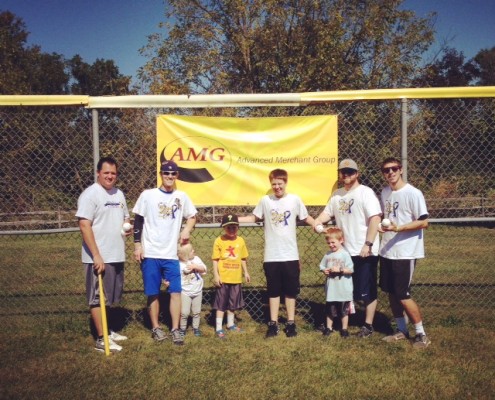 EAST NORRITON, Pa. – Advanced Merchant Group was one of the sponsors for the 2nd Annual Wiffle Fall Classic on Saturday, September 27, 2014. Teams from across the area faced off against each other at the East Norriton Township softball field in the tournament.
The tournament is an annual charity Wiffle ball tournament to raise money for The T21 Club of the Delaware Valley. The T21 club organizes Down syndrome awareness events at local sports games, the Philadelphia Zoo, and a prom for young adults with Down syndrome.
"These organizations and the events they organize play a pivotal role in improving the lives of children with special needs," said Kevin Wiener, president of AMG. "As a parent of a child with Down syndrome, I am thankful for the level of dedication put forth by both the organizations and their volunteers. I'm proud to have AMG play a small part in the success of these events."
Since 2001, Advanced Merchant Group (AMG) has been committed to providing top-quality merchant services throughout the United States. A registered ISO in the credit card processing industry and headquartered in Feasterville, Pennsylvania, AMG has processed close to $25 billion in credit card and check transactions. From mobile payment processing with AMG MobilePay™ to its own payment gateway and virtual terminal AMG SecurePay™, Advanced Merchant Group is a leading force in supplying merchants with the tools and support to cater to all customers. AMG can be reached via phone at 877.997.9473 or online at www.amgms.com.